Françoise Gilot, 1940–1950
June 14–September 24, 2000
This exhibition presents forty-six paintings and drawings from the first decade of Françoise Gilot's extraordinary career.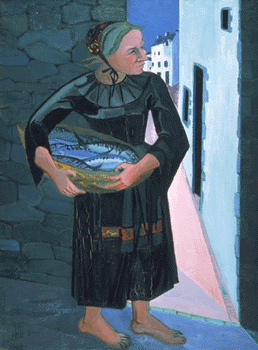 Young Fishmonger, 1942 Oil on canvas, 45.75 x 35
Françoise Gilot began painting in 1939, just before the German occupation of France. She continued to draw and paint in order to preserve the cultural traditions of France and to express the suffering of her people under a harsh totalitarian regime. However, she was afraid to openly criticize the National Socialists. When she did take part in a protest rally against the Germans, she was placed on a roster of dangerous young people and required to report to the police station every morning for several months. Nevertheless, Gilot found ways to fill her seemingly harmless portraits, still lifes, and landscapes with symbols of Nazi oppression and the French people's hunger for freedom.
This staunch woman is a symbol of strong anti-German sentiment. She wears a traditional Breton costume. The image captures another time, long before the trials of the Occupation. Gilot exhorts the French to cling to their cultural individuality as the Bretons have for centuries.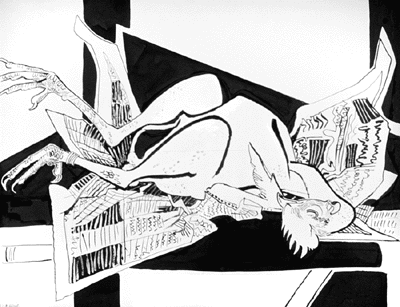 Dead Rooster on a Piece of Newspaper, 1943 India ink on paper, 20 x 26"
This drawing of a recently butchered rooster is another richly symbolic still life expressing Gilot's despair at the occupation of France. The rooster, long a symbol of French national pride and of France itself, lies dead, ready to be cooked and devoured. The rooster is wrapped in newspaper, a reference to the papers that brought the terrible news that France was dead.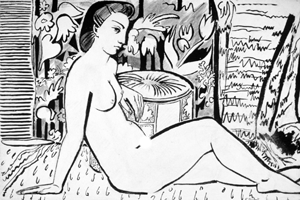 Nude in Profile, 1942, Ink on paper, 12.5 x 19"
A celebrated Parisian dealer, Dina Vierny, wrote that Gilot's work "can be located at the crossway of two giants of modern painting," Henri Matisse and Pablo Picasso. As a young artist in Paris, Gilot found encouragement in friendships with older artists, including Matisse. She shared Matisse's desire to capture an image with a bold, simple line and to create form out of fields of vivid color.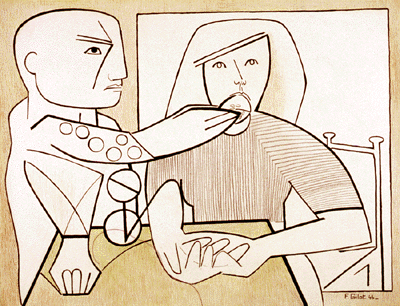 Adam Forcing Eve to Eat the Apple, 1946, Pencil and crayon on paper, 20 x 26"
Gilot met Pablo Picasso in 1943 and invited him to her first exhibition. Even though Picasso was forty years older than Gilot, the two soon became close, trading drawings and having long conversations. By 1946, Gilot had become Picasso's muse and partner. As the relationship developed, Gilot made several drawings that playfully expressed her ambivalence about becoming involved with such a powerful, intense man.
In this drawing, Gilot depicts Picasso as Adam and herself as Eve. However, the roles are reversed. Picasso holds an apple to Gilot's mouth and forces her to eat. The image recalls a famous photograph of Picasso feeding Jean Cocteau, which became a symbol for the ways Picasso's artistic genius nourished the creativity of other artists. We can also see Picasso's influence in Gilot's new willingness to distort the figure. She pulls both of Picasso's arms to the right side of his body to emphasize his twin gestures of feeding the apple and pounding his fist.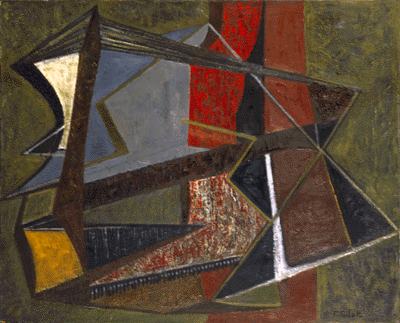 Dynamic Tensions, 1945, Oil on canvas, 21.5 x 32"
When peace came in 1945, Gilot felt free to devote herself to disciplined experiments in abstraction. She wanted to return to the basics of line and form in order to discover her own artistic language. These tautly structured abstractions led her to join an artistic group called Réalités Nouvelles ("New Realities") led by Nicolas de Staël. Its members believed that, after the atrocities of the war, they could no longer create images of human beings, only pure abstractions. Refusing to be constrained by anyone, Gilot soon separated from the group. She began to incorporate representative elements into her work, creating an ironic or whimsical effect. She also began a new exploration of the human figure; she distorted the forms of the body in order to capture the emotional reality of intimate relationships.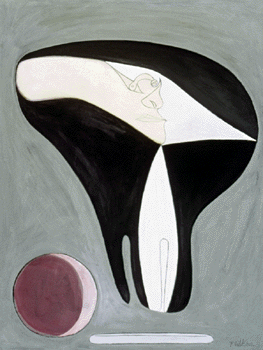 Night Flight, 1948, Gouache on paper 26 x 20"
By 1950, Gilot was considered a major feminine voice for the School of Paris. She gained a contract with the influential art dealer, Daniel-Henri Kahnweiler, and had her first one-woman shows. She was becoming more and more independent of Picasso, whom she would leave in 1953. By the time she entered the second decade of her artistic career, Gilot was a success, painting with confidence and enjoying great acclaim.