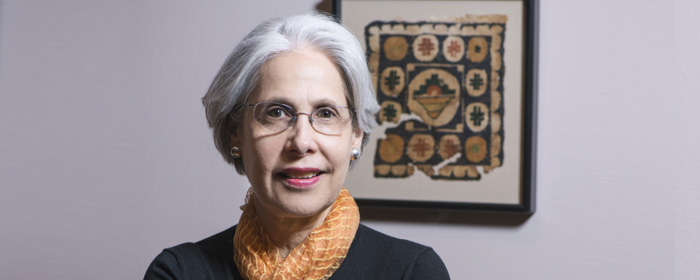 Director's Welcome
A gateway to Boston College, the McMullen Museum of Art welcomes you to its home in the recently-expanded and renovated Renaissance Revival palazzo at 2101 Commonwealth Avenue in Boston.
From its inception in 1990, the McMullen has departed from practices of other university museums by linking its mission to faculty research across disciplines and to sharing with a wide audience what is normally the private enterprise of new faculty scholarship. The McMullen has mounted more than seventy-five large-scale loan exhibitions and produced nearly as many scholarly catalogues. Subjects explored range from contemporary installations in a variety of media by ethnically and racially diverse artists from around the globe, classical and Asian antiquities, Italian baroque paintings, and medieval and Islamic artifacts, to nineteenth- and twentieth-century paintings and works on paper from Europe, Asia, and the Americas. The McMullen's permanent collection which features Coptic textiles, Haitian paintings, European and American paintings (including significant holdings by John La Farge), tapestries, prints, and photographs, continues to grow. You can search much of the permanent collection on our database and catch up on exhibitions you might have missed by viewing virtual walkthroughs on this website.
As a teaching museum in a research university, the McMullen remains dedicated to the highest standards of scholarship and installation and to contributing to the evolution of ideas informed by works of art and material culture. We invite our students, faculty, and staff and those at other institutions, as well as our regional, national, and international audiences, to participate in the ongoing dialogue.  As one of many agents for progress on social justice at our university, the McMullen stands with Boston College's president and senior administrators and its Forum on Racial Justice in America in committing to diversity and inclusion in its programming.
We are pleased to share with you our exhibitions, research, educational programs, and events and hope you will make the museum your own—virtually and in person. Inclusive of all, the McMullen is open to the public free of charge seven days a week. Please visit often, as we change our exhibitions!


Robert L. and Judith T. Winston Director and Professor of Art History
Video: Celebration of the Robert L. and Judith T. Winston Directorship of the McMullen Museum of Art