Interactive Spotlight
To explore this piece, hover your mouse or tap your finger on the name of the artist, title, or details in the photo.
Arthur Clifton Goodwin (1864–1929)
Arthur Clifton Goodwin, born in 1864 in Portsmouth, New Hampshire, was a self-taught painter best known for his scenes of early twentieth-century Boston and New York City. Having worked under Louis Kronberg in Boston, Goodwin soon developed a reputation in the early 1900s and 1910s as a master of impressionist cityscapes. Depictions of Boston landmarks can be found among his oeuvre, including Copley Square, the Public Garden, and the wharves of Boston Harbor. In the early 1920s, Goodwin moved to New York City to continue painting, before returning to and dying in Boston in 1929. Today, his works may be found in Boston's Museum of Fine Arts, New York's Metropolitan Museum of Art, and the Indianapolis Museum of Art, among other institutions.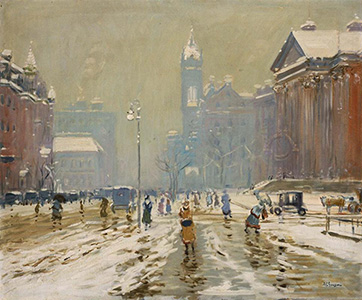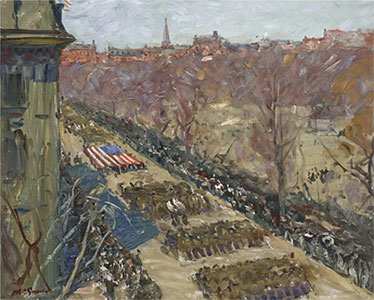 L: Copley Square, Boston, c. 1908, Museum of Fine Arts, Boston; R: Liberty Loan Parade, 1918, Indianapolis Museum of Art (depicts Boston Public Garden)
The Custom House Tower from Long Wharf, 1913
Oil on canvas, 36 x 40 in., McMullen Museum of Art, Boston College, Gift of Dr. Harry and Ruth Kozol, 1991.6
When Boston's Custom House Tower was finished in 1915 atop the original 1849 building, the 496-foot Greek Revival structure was the city's first true skyscraper—unsurpassed in height until the completion of the Prudential Tower in 1964. Now home to a corporate hotel and still serving as an iconic part of Boston's skyline, the tower was disparaged by architectural historians in its first decades as nothing more than "a vast chimney stack rising from a Roman temple." Both the Custom House Tower and Long Wharf were favorite subjects of Goodwin's.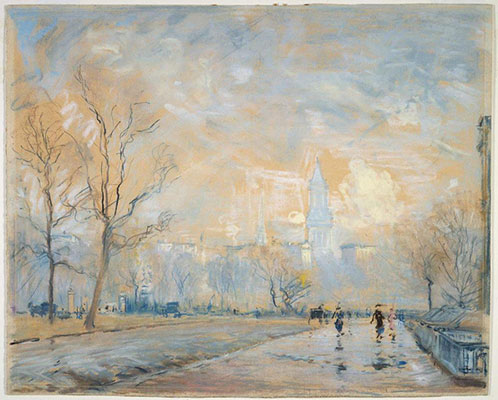 Custom House Tower from the Public Garden, Boston, c. 1914, Museum of Fine Arts, Boston
For more information on the Custom House, visit the City of Boston's Buildings We Love