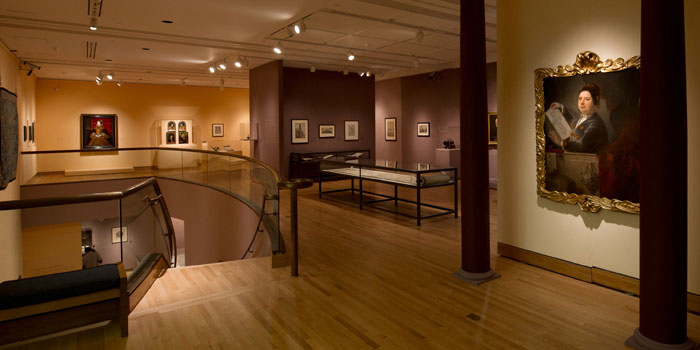 About the McMullen Museum
Mission
The McMullen Museum aims to cultivate learning, celebrate artistic excellence, explore the visual traditions of diverse cultures, and inspire transdisciplinary faculty and student research based on the visual arts. The McMullen offers exhibition-related programs and resources for diverse audiences of all ages on campus, in the Greater Boston area, and beyond.
History
With roots in an older departmental gallery, the Boston College Museum of Art opened in 1993 in Devlin Hall under the direction of Professor of Art History, Nancy Netzer. The Museum was renamed the McMullen Museum of Art in 1996 in recognition of a generous gift from John and Jacqueline McMullen.
The McMullen diverged from other university art museums in being faculty-driven with the aim of inviting transdisciplinary collaboration and research from faculty across the University working in collaboration with other scholars from around the world. The Museum has since produced more than sixty interdisciplinary exhibitions with nearly as many peer-reviewed catalogues, emphasizing that interrogation of artifacts as evidentiary documents is relevant to all disciplines of study.
About the McMullen Family
The McMullen Museum of Art is named in recognition of its longtime patrons John and Jacqueline McMullen and the McMullen Family Foundation, in honor of John's parents, Isabella and Charles. The late John McMullen (1918–2005) held a PhD in mechanical engineering and served on the Boston College Board of Trustees from 1978 to 1986. He was a naval architect, businessman, marine engineer, and former owner of the New Jersey Devils and the Houston Astros. John McMullen shared his deep interest in art and collecting with his wife, Jacqueline. She and their children and grandchildren are cherished friends and advisors to the McMullen Museum and generously supported the renovation of its new home on Commonwealth Avenue.
The New McMullen
In 2005, the McMullen Family Foundation provided a lead gift to renovate and build an addition to the Neo-Renaissance palazzo at 2101 Commonwealth Avenue. Designed in 1927 by architects Maginnis and Walsh, the building originally served as the home of Boston's cardinal archbishops. The renovation was completed in spring 2016 and opened to the public on September 12, 2016.
The following endowments support the McMullen's programs:
The Linda '64 and Adam Crescenzi Fund
The Janet M. and C. Michael Daley '58 Fund
The Gerard and Jane Gaughan Fund for Exhibitions
The Hecksher Family Fund
The Hightower Family Fund
The John F. McCarthy and Gail M. Bayer Fund
The Marguerite "Peggy" Simons Publications Fund
The Christopher J. Toomey '78 Fund
The Alison S. and William M. Vareika '74, P'09, '15 Fund