Art and Literature: Three Exhibitions
June 23–September 20, 1998
E-book
Pablo Picasso
1977
Bronze cast, edition of 5
Art and Literature: Three Exhibitions—Artists and Writers: Sculpture by Michael de Lisio; The Boydell Shakespeare Gallery; Irish Delftware share a common theme—the relationship between visual and literary culture. De Lisio's sculpture captures the character and cultural significance of writers and artists he admired and knew. The Shakespeare Gallery sought to build an English tradition of theater painting through the production of engravings that depict scenes from Shakespeare. Co-curators Jeffery Jones and Tyler McDaniel, graduate students in the Boston College Irish Studies Program, locate the production of Irish Delftware within the historical context of colonialism and Orientalism, and demonstrate its cultural significance by examining images of delftware in Irish literature.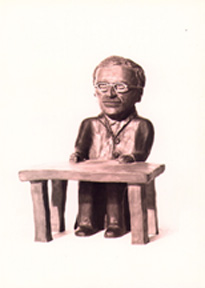 Alfred Stieglitz
1981
Bronze cast, edition of 6
The exhibition includes 16 bronze sculptures by New York artist Michael de Lisio, a self-taught sculptor who began sculpting at the age of 55. The writers he admired became his early subject matter, unifying his love of literature with his new interest in sculpture. Without ever having taken lessons, he reinvented technique as he needed, developing an individual style that appears in a series of busts—which include Oscar Wilde, Henry James, and Gertrude Stein—all completed within two years. Developing a semi-naturalistic but individualized sense of form, the figures are intimate and oddly monumental, having an unusual sense of scale for sculptures so small. He intended to capture both the life and what he terms "the poetry in the work" of the writers—and later the artists—he sculpted.
Since 1978, his work has focused on a series of sculptures of great artists. In these later works, a severity, or 'expressive deformity' emerges, encroaching on the primitive naturalism of his earlier work. During two decades when the dominant art movements were conceptual or minimal, large scale and abstract, de Lisio was an anomaly. He made sculpture that was unschooled, figurative and small scale about a personal pantheon of artists and writers that shaped the century. The Burns Library will display a related exhibit of de Lisio sculpture, letters and memorabilia.
The Boydell Shakespeare Gallery is curated by Frederick Burwick, Professor of English at the University of California, Los Angeles. It is organized in conjunction with the publication of his book of the same name.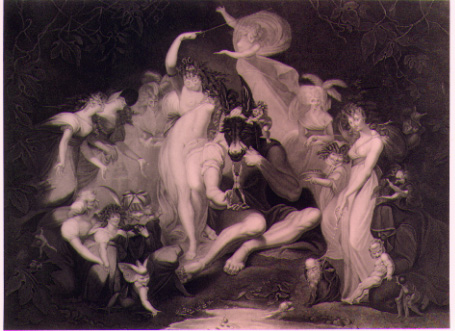 Midsummer-Night's Dream Act 4 scene 1
Henry Fuseli
Courtesy of the Widener University Art Collection, Chest, PA; Gift of Dr Elliott C. Shull, Jr., 1995.
This exhibition includes 31 engravings made from original paintings—depicting scenes from Shakespeare's plays—commissioned by 19 artists, as well as some preliminary sketches. This collection provides unique documentation of the theatrical performances of Shakespeare's plays in the closing decade of the 18th century, and a unique record of the forces at work during the era which brought the changes from Neo-Classicism to Romanticism. The Gallery was the first major effort in the commercialization of art, via the entrepreneurial skills of John Boydell, "the Commercial Maecenas," who opened London's first commercial gallery to exhibit paintings and engraved prints produced by his printing house.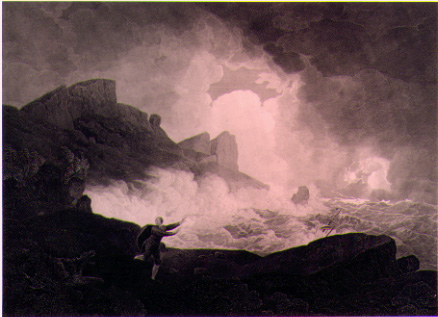 Winter's Tale Act 3 scene 3
Joseph Wright
Courtesy of the Widener University Art Collection, Chest, PA; Gift of Dr Elliott C. Shull, Jr., 1995.
Although John Boydell may have intended to lend his support to history painting, in fact he was encouraging a rival genre of theater painting, competing with, but very much defining itself, invited a considerable range or experimentation among the artists who had accepted commissions from Boydell. It might focus on any one of the many aspects of the drama: grand historical panorama, passionate personal encounter, and meditative interludes all were among the options chosen by individual artists.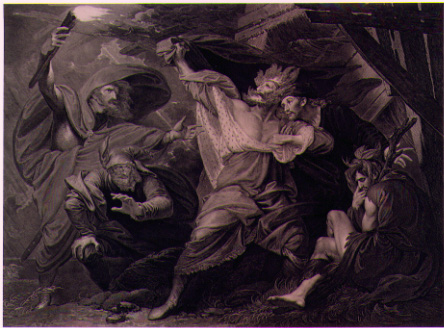 King Lear Act 3 scene 4
William Sharp
Courtesy of the Widener University Art Collection, Chest, PA; Gift of Dr Elliott C. Shull, Jr., 1995.
The very fact that the Shakespeare Gallery lacked uniformity in style has insured its continued interest among art historians. John Boydell may have claimed it his purpose to establish an English School of History Painting, but his artists were eclectic both in their styles and in their national heritage. Boydell commissioned some of the greatest painters of his day to depict scenes from Shakespeare's plays. They include Mather Brown, Henry Fuseli, Anglika Kauffmann, Sir Joshua Reynolds, George Romney, Benjamin West, Joseph Wright and others. Several of the artists had Italian training, and many were members of the Royal Academy in London.
Irish Delftware, which includes works from the McMullen Museum's permanent collection, recently given by Elizabeth Cabot in memory of Elizabeth Josephine Harty, examines the development of porcelain ware in Ireland and the relationship of Ireland's delftware to the wider European manufacture, development, and distribution of Orientally-inspired serving ware. Co-curators Tyler McDaniel and Jeffery Jones explore delftware's cultural resonances as evidenced in Irish literature.
With European expansion came an influx of Oriental goods, which not only captivated the imagination, but also captured the purse: silk, tobacco, chocolate, coffee, and tea were in high demand in Europe's fashionable drawing-rooms. Another much sought after item was a unique, translucent serving ware called porcelain or, alternatively, china. Wary of the trade imbalance that arose from the pouring in of Oriental goods and the pouring out of European currency, Europeans eventually created their own version of china serving ware. In the early 1600s, the Dutch town of Delf (later Delft) began manufacturing what would prove to be the most popular porcelain alternative. Although known as either majolica in Italy or faience throughout much of the rest of the Continent, in the British Isles and Holland, all tin-glazed pottery—whether it was Staffordshire's Wedgwood ware (c.1760s) or Fermanagh's Belleek (or Beleek) ware (c.1860s)—retained the generic name "Delft."
The imaginations of Irish-born writers have also been captivated by the Orient: Thomas Moore's Lalla Rookh (1817), Oscar Wilde's play Salomé (1894), James Joyce's short story "Araby" (1912), and W.B. Yeats' poetry, drama, and philosophy all draw upon the Oriental themes.
This originally Asian object, modified by Continental Europe and handed down through British colonization, has become a distinctly Irish artifact—as much a part of the contemporary image of Irish culture as shamrocks, fairies, and the Blarney stone.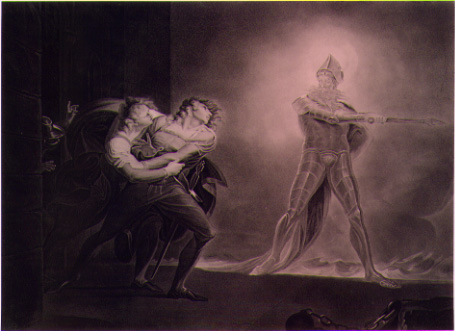 Hamlet, Prince of Denmark Act 1 scene 4
Henry Fuseli
Courtesy of the Widener University Art Collection, Chest, PA; Gift of Dr Elliott C. Shull, Jr., 1995.