GONE: Site-Specific Works by Dorothy Cross
April 14–July 12, 2005
E-book I Catalogue | Boston Globe Review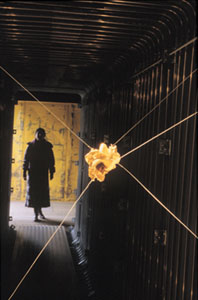 GONE is the first exhibition to make accessible to an expanded audience the acclaimed site-specific work by one of Ireland's most outstanding contemporary artists, and to permanently document that work in a catalogue.
Using a variety of media, Dorothy Cross engages the particularities of a given time and place, while simultaneously capturing the psychic commonality of anxiety and desire. Although her work is highly conceptual and theoretical, it retains the actuality of place and the materiality of the object. Temporary site-specific works are generally seen by relatively few spectators and leave no concrete, lasting form. Such works are preserved only through documentation in photographs, videos, or written accounts. This exhibition includes color and black and white photographs of the installations, as well as projections, videos, and sculptural objects that evoke the original works and their settings: down a corridor, or through a doorway peephole. The exhibition is organized into three thematic sections: "The Return of the Repressed," "The Impossibility of Desire," and "The Inevitability of Loss."
Organized by the McMullen Museum, this exhibition was curated by Professor Robin Lydenberg of the Boston College English department. Photographic prints by Stephen Vedder of Boston College's Media Technology Services. The exhibition and catalogue have been underwritten by Boston College with major support from Isolde Moylan, Consulate General of Ireland; the Department of Foreign Affairs of Ireland; the Government of Ireland; and the Patrons of the McMullen Museum.