Reclaiming a Lost Generation
October 6–December 8, 2002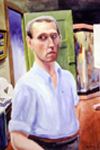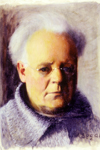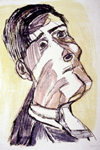 A men's clothing manufacturer from Stettin, Germany, Siegbert Feldberg (1899-1971) built a collection of self-portraits by Berlin artists in the 1920s and 30s. His collection includes works by Max Liebermann, Käthe Kollwitz, Oskar Kokoschka, Erich Heckel, and other late impressionists, expressionists, and members of the New Objectivity movement. In a time of spiraling inflation, Feldberg was able to sponsor artists by trading coats and suits from his stores for works of art. When he was forced to emigrate to India in 1934, Feldberg managed to save his collection, even though the works were considered degenerate by the Nazis.
The Feldberg collection documents artistic identities that were annihilated or changed irrevocably with the rise of the Nazis. By the end of World War II, many Berlin artists had lost their studios and their works of art. Some of the artists in Feldberg's collection were pressed into military service and died in combat. Jewish artists, who make up over half of the artists in the collection, emigrated from Germany or died in ghettos and camps.
Curated by Dietlinde Hamburger (Cambridge, MA) and Freya Muelhaupt (Berlin), Reclaiming a Lost Generation presents 56 works from the Feldberg collection. Now in the Berlinische Galerie, this rare collection of self-portraits preserves the memory of a generation of German artists who otherwise would have fallen into oblivion.