Irish Art Now: From the Poetic to the Political
October 1–December 12, 1999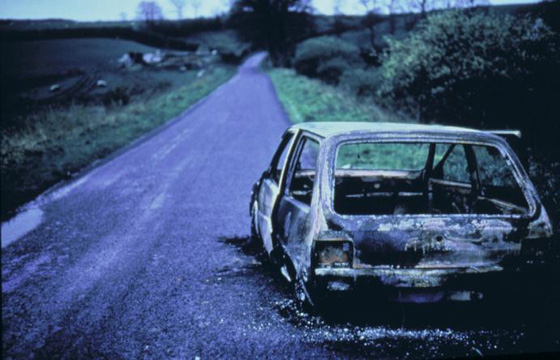 Willie Doherty, Incident, 1993, cibachrome on aluminum, 49 1/4" x 73 3/5"
In 1924, cultural nationalist and ardent republican Daniel Corkery attempted to define Ireland and "Irishness." He settled on three attributes that together made Ireland Irish: the religious consciousness of the people, Irish nationalism, and the land. Ireland today is a country in motion, sharing in the social, political, cultural and religious complexities that confront all modern nations at the end of the twentieth century. These changes have caused Ireland's artists to redefine traditional identities, raising questions about the relationships between male and female, urban and rural, North and South, history and the present. The artists have initiated dialogues with their own society and others beyond Ireland, using painting, photography, sculpture, video and installation to explore subjects ranging from the personal and poetic to the political. This exhibition includes thirteen preeminent artists in Ireland today. They struggle with issues of individual and cultural identity by focusing on particularly Irish traumas of the past, such as the Great Famine of the nineteenth century, and of the present, like "the Troubles" in Northern Ireland. Their artistic inquiry extends to religion, sexuality, and (pre)conceptions of Ireland and "Irishness," whether those notions are generated from outside or from inside. Although often referencing phenomena, attitudes, or events that are particularly Irish, the artists explore these concerns using non-traditional materials and new interpretations of more conventional media in ways that link these works to art being made at the same time elsewhere in the world.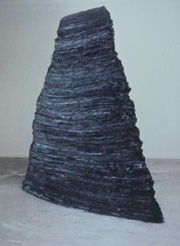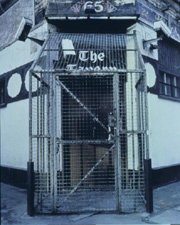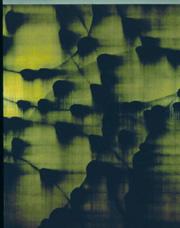 Kathy Prendergast,
Stack
, 1989-91, cloth, string, paint and wood, 108" x 104" x 28" Paul Seawright,
Cage I
, 1997, C-type photograph on aluminum, 80" x 64" Mark Francis,
Undulation (Indian Yellow)
, 1996, oil on canvas, 85 1/4" x 73 1/4"
All the works in this exhibition defy categorization into specific, individual themes, and most deal simultaneously with several possible readings. One notion that resonates through all these works is an attempt to erode preconceptions of traditional power structures and social institutions, but complete destruction is not the goal. The artists are questioning and challenging in the hope of transforming. They rethink old sources of identity and structures of institutional hierarchies to create a vibrant, dynamic Irishness compatible with the world as it approaches a new millennium. Are Daniel Corkery's three pillars "religious consciousness, nationalism, and the land" still upholding Irish society's cultural identity? Yes and no. The pillars remain, as these artists bear witness, but they have been reshaped and reinforced to bear the weight of Ireland's burgeoning post-modern culture. The visual representations in the current exhibition of this steady resculpturing and remodeling of Ireland's social and cultural identities is challenging, especially for an American audience removed from the daily context in which these pieces were created. Sometimes, as reflected in several of these works, this representation of Ireland's ongoing transformation is disturbing, but it is always exhilarating.
Irish Art Now: From the Poetic to the Political is a traveling exhibition organized and circulated by Independent Curators International (ICI), a nonprofit visual arts organization, in association with the Irish Museum of Modern Art in Dublin (IMMA). Guest curator for the exhibition is Declan McGonagle. The Foundation-To-Life and the Cultural Relations Committee of the Department of Foreign Affairs, Dublin, have supported the exhibition, catalogue and tour. Aer Lingus Cargo assisted in transporting the works of art. Boston College supported the exhibition at this venue. ICI, IMMA, and the Irish Studies Program and the McMullen Museum at Boston College contributed to the wall texts.