Fernand Khnopff: Inner Visions and Landscapes
September 19–December 5, 2004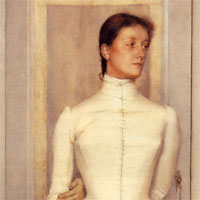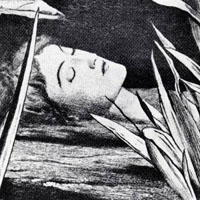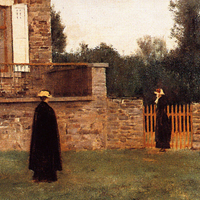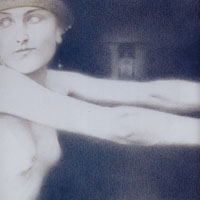 Fernand Khnopff: Inner Visions and Landscapes presents over 70 paintings and works on paper that span the career of this key figure in the European Symbolist movement. The McMullen Museum of Art is the sole North American venue for this major retrospective, also the first of its size and scope to be shown in America. The exhibition includes Khnopff's most important works from the Royal Art Museums in Brussels as well as many from private collections in Belgium, Switzerland, Germany, France, and the United States.
This exhibition provides a fascinating window into late-nineteenth century Belgium, an era in which the country was emerging as a leading international center for art. Khnopff developed his art in a highly intellectual culture that embraced and defined the major themes of Modernism. This retrospective presents all aspects of the artist's remarkable oeuvre, including realist landscapes and mystical symbolist visionary art. The works illustrate the artist's fascination with dreams and the unconscious as well as his interest in religion. Khnopff combines a nearly photographic realism with a polished idealism that transcends reality. He reveals himself as a multi-faceted artist, working not only as a painter and draughtsman in oils, pastels, and mixed techniques, but also as a sculptor, engraver, and architect. He also produced many photographs of his works, which he later enhanced with pastels or colored crayon. At the end of his life, Khnopff was in constant demand, illustrating books by his Symbolist contemporaries—Stéphane Mallarmé, Emile Verhaeren, and Maurice Maeterlinck—programs for charity and patriotic events, and even a banknote, which was never produced.
Fernand Khnopff opened at the Royal Art Museum in Brussels (January 16 to May 9, 2004) to overwhelmingly positive reviews in the European press and attracted over 163,000 visitors. The exhibition was organized by curator of modern art Frederik Leen of the Royal Art Museum, with distinguished scholars Gisèle Ollinger-Zinque, Dominique Marechal, Francisca Vandepitte, and Sophie Van Vliet serving as co-curators. Professor Jeffery Howe of Boston College, a specialist in Khnopff's art, collaborated on the fully illustrated scholarly catalogue for this exhibition which is published in French, Dutch, German, and English editions.