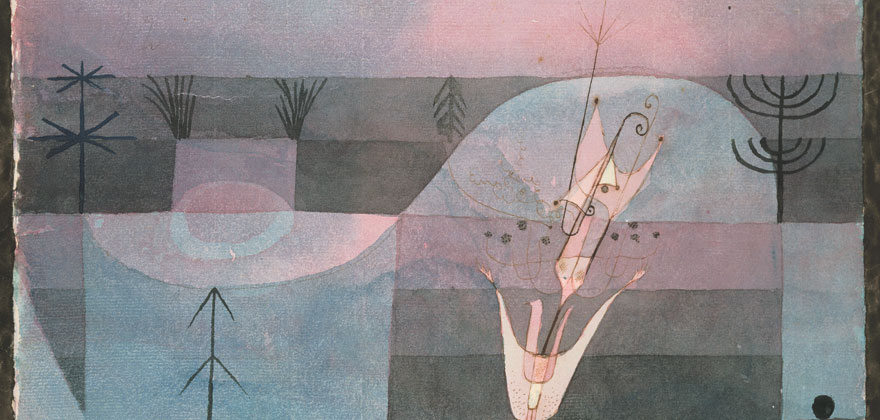 Paul Klee: Philosophical Vision; From Nature to Art
September 1–December 9, 2012
Paul Klee: Philosophical Vision; From Nature to Art was named the "Most intellectually nourishing" exhibition in the Boston Globe's top 10 picks for 2012 art-museum shows.
This exhibition is the first to focus on the relationship between philosophy and Klee's artistic oeuvre and to reveal the broad impact the artist has had on recent philosophical thought. It demonstrates how the artist's groundbreaking theories of nature, words, and music developed in his writings and lectures are translated into form, line, and color in his works of art. The exhibition also reveals Klee as an astute critic of modern society, especially with regard to the impact of technology and the political failures that led to the rise of Nazism in Germany. A large number of works on display have been lent by the Zentrum Paul Klee in Bern; other outstanding examples come from the Beyeler Museum, Boston Public Library, Colby College Museum of Art, Columbus Art Museum, Davis Museum and Cultural Center (Wellesley College), Harvard Art Museums, Houghton Library (Harvard University), Mount Holyoke College Museum of Art, Museum of Fine Arts (Boston), Museum of Modern Art (New York), Metropolitan Museum of Art, Phillips Collection, Saint Louis Art Museum, and Smith College Museum of Art.
A catalogue of fifteen essays by distinguished philosophers and art historians edited by John Sallis and an international conference (October 17–19, 2012 at Boston College) accompany the exhibition.
Organized by the McMullen Museum in collaboration with the Zentrum Paul Klee, Bern, Paul Klee: Philosophical Vision; From Nature to Art has been curated by John Sallis in consultation with Claude Cernuschi and Jeffery Howe. The exhibition has been underwritten by Boston College, the Patrons of the McMullen Museum, and the Newton College Class of 1967, with additional support from swissnex Boston and Swiss International Air Lines Ltd.