Accommodations of Desire: Surrealist Works on Paper Collected by Julien Levy
January 15–March 24, 2005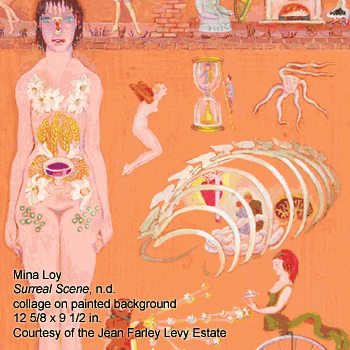 Surrealism, which dominated modern art in the 1930s and '40s, attempted to reconcile everyday reality and the world of dreams into a superreality, or surreality (sur being French for "on" or "above"). Julien Levy described the genre as a melding of dream, metaphor, fetishism, nonsense, and play. Levy's passion for this art exceeded professional protocol. One observer described the preeminent art dealer and collector as "militant" about the movement whose cause he advanced through his New York gallery. The 115 works comprising this exhibition testify to Levy's ardor for the Surrealist movement and its many members. More than merely selling Surrealism, Levy lived it. As revealed in his personal mementos and in works endearingly inscribed to him, Levy was an intimate of the artists he represented. He collaborated with them, making surrealist films, composing a surrealist history, and even initiating a surrealist funhouse for the 1939 New York World's Fair. The project to which he was most dedicated, however, was the acquisition of surrealist art—books, paintings, sculpture, toys, seashells, photographs, drawings, records, prints, cabaret posters, chess boards, and even a Victorian circus automaton.
The title of this exhibition comes from one of Salvador Dalí's most famous images, Accommodations of Desire—a painting that Levy once owned and counted among his favorites. In presenting Levy's personal collection, the exhibition explores not only a professional's historic role in the promotion of Surrealism, but also an individual's zeal and affinity for the concepts and artists of this movement.
Accommodations of Desire: Surrealist Works on Paper Collected by Julien Levy is organized and circulated by Curatorial Assistance Traveling Exhibitions, Los Angeles, and is curated by Ingrid Schaffner and Colin Westerbeck with additional text provided by the Palmer Museum of Art, The Pennsylvania State University, and the McMullen Museum of Art. Drawings and prints, unless otherwise noted, have been lent by the Jean Farley Levy Estate. Photographs have been lent by David Raymond, New York.
The Julien Levy Gallery
Julien Levy (1906–1981) was one of the twentieth century's most influential art dealers. Levy was a member of Harvard University's early generation of trained museum professionals whose collective accomplishments proved critical to the dissemination of modernist culture in America. The Harvard circle embraced and promoted new disciplines in the museum: film, architecture, and industrial design. Opening his gallery in 1931, in the midst of the Depression, and closing in 1949, with the country on the verge of postwar prosperity, Julien Levy's endeavor flourished during the very years that the center of the cultural avant-garde was shifting from Paris to New York.
Championing and representing Surrealism through its formative years in New York, Levy was a conduit for many vital aesthetic changes that had originated in Europe. With the prestigious American photographer and dealer Alfred Stieglitz as his mentor, Levy began by dealing in Surrealist photography, a movement that favored psychological complexity over pictorial clarity. Quickly realizing that he would be unable to support himself by selling only photographs, he turned to selling paintings. Levy ultimately exhibited and sold a vast range of media, as is evident in the list of artists to whom he gave first New York exhibitions: Eugene Berman, Joseph Cornell, Salvador Dalí, Max Ernst, Léonor Fini, Man Ray, Dorothea Tanning, Roberto Matta, and Arshile Gorky. Tanning once said, "Of all the gallery activity on Fifty-Seventh Street, where everything happened in those days, it was the Julien Levy Gallery that was truly making art history, the place where it was 'at.'"