In a Perfect World: Bermuda in the Context of American Landscape Painting
May 16–September 15, 2002
"Bermuda is what it is—nothing whatever but sunlight—soft air—and the water like thermal baths, and they have soothed me quite a bit." In search of relief from the trying times of the Depression, Marsden Hartley voyaged to explore his creative potential amidst the serenity of a remote island. Hartley belonged to a long tradition of American artists who endeavored to capture the pure and inspirational qualities of nature.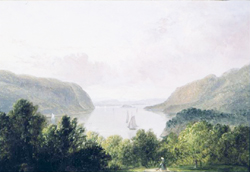 Thomas Doughty (1793-1856) Hudson River near West Point, c. 1835 Oil on board, 8.5 x 11.875 in. The Montclair Art Museum, 1959.2 Gift of Mr. and Mrs. John C. Cattus
Beginning in the first half of the nineteenth century, American painters of the Hudson River School traveled the northeast coast believing they would find comfort, courage, pride, or strength in nature. Their idealized landscapes based on classical order became the first artistic embodiment of the frontier spirit and the American dream to discover and settle the West.
In the late nineteenth century, artists who identified themselves as Luminists, such as George Inness and Martin Johnson Heade, painted a new version of the idealized American landscape, imbued with an ethereal and luminescent quality. In response to American industrialization and urbanization, this tradition of artists depicted nature as a spiritual ideal, thereby invoking nostalgia for an earlier, simpler era.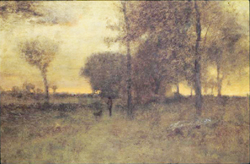 George Inness (1825-1894)
Sunset Glow
, 1883
Oil on paper mounted on board, 16 x 24.125 in.
The Montclair Art Museum, 1946.1
Gift of Francis M. Weld
In the early twentieth century, Modernist painters such as Marsden Hartley, Winslow Homer, and Georgia O'Keeffe took the tradition of the idealized landscape abroad with them to Bermuda. Drawing on the experimentation of the European Avant-garde, these modern American artists depicted a glorified Bermudan landscape.
Whether depicting an exotic locale or their own hometown, American artists created images that offered comfort in often troubled times. This exhibition examines how artists have used idealized Bermudan and American landscapes to express their best hopes for a perfect world.
Organized by the McMullen, In a Perfect World: Bermuda in the Context of American Landscape Painting brings together over fify paintings, including twenty-nine works from the Masterworks Bermudiana Collection. This exhibition is presented by Fidelity Investments through the Fidelity Foundation and the FIL Foundation, Bermuda. It will run from May 16 to September 15, 2002.