Pollock Matters
September 1–December 9, 2007
E-book | Catalogue | Press Release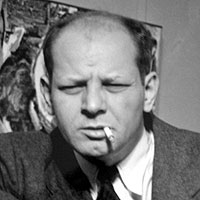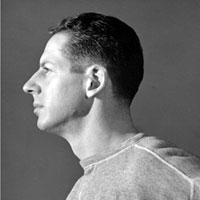 Jackson Pollock (L), Herbert Matter (R)
Comprising over 150 paintings, drawings, photographs, and sculptures, this exhibition explores the personal and artistic relationship between famed American Abstract Expressionist painter Jackson Pollock and noted Swiss-born photographer and graphic designer Herbert Matter. Featuring compelling visual and documentary evidence, it demonstrates a critically important, but hitherto unexplored, chain of influence between two creative individuals who were close friends. Herbert Matter's innovative brand of action photography, in use by 1943, emerges as one of the factors that helped Pollock to conceptualize a unique painting style in the immediately following years. This exhibition reveals how strongly Pollock's radical artistic goal of "energy made visible" was allied with the stimulus of Herbert Matter's innovation.
The story began in 1936 when the two artists' future wives, painters Lee Krasner, and Mercedes Carles, met after being sent to jail for protesting WPA cutbacks. It ended in 1956, the summer of Pollock's tragic death in an automobile accident at the age of 44. The Matters were responsible for bringing Krasner and Pollock into the orbit of prominent figures in the New York art world of the 1940s, including Hans Hofmann and Alexander Calder, artists whose innovations now appear more closely connected with Pollock's than previously believed. The exhibition demonstrates this affinity and also puts on public view for the first time a body of dripped works labeled "Jackson experimental works (gift + purchase)" by Herbert Matter and discovered by Herbert's son Alex in 2002.
An accompanying catalogue edited by Ellen G. Landau and Claude Cernuschi includes essays by art historians and scientists. In addition to clarifying the impact of Pollock's relationship with Herbert Matter, the catalogue provides a new look at the role of scale in Pollock's working process, examines the implications of discovering fractal patterns in his abstractions, and investigates the range of pigments used in his well-known allover paintings.
Curated by Ellen G. Landau in collaboration with Claude Cernuschi, Pollock Matters has been organized by the McMullen Museum of Art. The exhibition is underwritten by Boston College with major support from William and Katherine McLaughlin and the Patrons of the McMullen Museum.