← newer: Samuel W. Griggs, Rocky Coast | older: James Miller, Peaceable Kingdom →
Interactive Spotlight
To explore this piece, hover your mouse or tap your finger on the name of the artist, title, or details in the photo.
Alessandro Nelli (founder) (1842–c. 1903)

,


Master founder Alessandro Nelli crafted this sculpture of Rome's first emperor, Augustus. He contributed sculptures to international expositions and worked on many high-level commissions; he died in Russia working for Tsar Nicholas II. A millennia-old craft, cire-perdue (lost-wax) sculptures are created by pouring molten metals into molds surrounding cores of clay encased by wax. Nelli pioneered advancements alongside the ancient methods, leading to his foundry's preeminence in the last decades of the nineteenth century. Many copies could be created from single molds and sold internationally by catalogue or commission; the trade card here highlights the Nelli factory's specialities.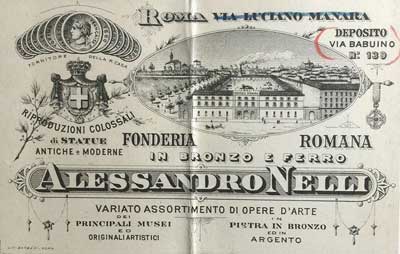 Augustus of Prima Porta, 1880–1900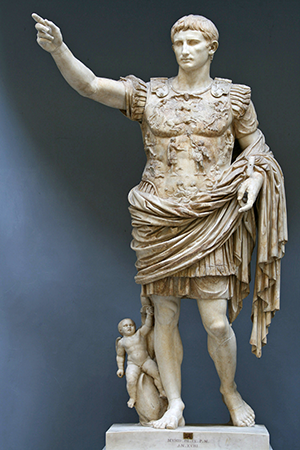 This sculpture of Augustus (63 BCE–14 CE) is a copy of a Parian marble original (pictured here) that measures nearly seven feet tall. Discovered in 1863 at Prima Porta, a villa north of Rome that belonged to Augustus's last wife, Livia Drusilla, it now resides in the Musei Vaticani. The marble original is believed to be a copy of a bronze, likely created by a Greek artist soon after Augustus conquered the Parthians in 20 BCE, as the breastplate features imagery of his victorious campaign in what is now Iran. Because the marble Prima Porta may include Tiberius, his wife Livia's son and his successor, it is thought that Livia ordered the marble statue after Augustus's death.
The McMullen Prima Porta has come full circle: a bronze lost-wax sculpture of a marble sculpture of a bronze lost-wax sculpture. Works that, in their own times, were copied and displayed widely throughout the empire as symbols of prestige and propaganda. In a largely illiterate and multilingual empire, the image of the emperor held great power. Up to 50,000 portraits of Augustus may have been created. Factories, not unlike Nelli's, with standardized production and skilled artisans, created copies for display and veneration. Bronze sculptures almost never survive; the metal was too valuable not to melt down and reuse. Though more durable, marble statuary, especially full-length portraits, are likewise rare survivals.
Bronze, 50.5 x 33 in., McMullen Museum of Art, Boston College, 1988.165