← newer: Mourning Fan | older: Alessandro Nelli, Augustus of Prima Porta →
Interactive Spotlight
To explore this piece, hover your mouse or tap your finger on the name of the artist, title, or details in the photo.
Samuel W. Griggs (1827–98)

,

Bostonian painter Samuel W. Griggs was a prolific and commercially successful artist, best known for his paintings of the White Mountains in New Hampshire, but also for his coastal works depicting Maine and New Brunswick's Grand Manan Island. He is listed as an architect in the Boston City directory from 1848 to 1852, and then as an artist from 1854 until his death. He exhibited at the Boston Athenæum and the Boston Art Club. Griggs appears to have had connections with Albert Bierstadt, exhibiting in a New Bedford, Massachusetts exhibition organized by the famous landscape artist. Commentators have noted stylistic similarities between the painters and some have speculated that Griggs may have studied under Bierstadt.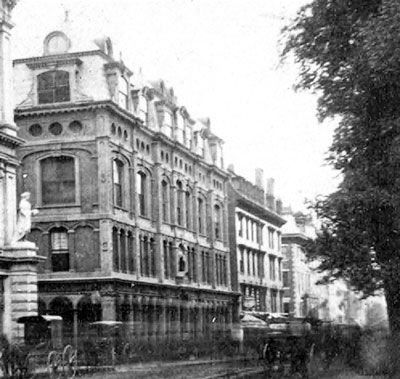 The Studio Building, 110 Tremont Street, Boston, where Griggs roomed and worked.
Rocky Coast, 1866
The painting's title gives no indication of the location depicted, or whether it is a specific or a constructed view. The dramatic cliffs closely resemble those in other Griggs's paintings of the Maine coast, a magnet for many prominent painters including William Trost Richards and Alfred Thompson Bricher.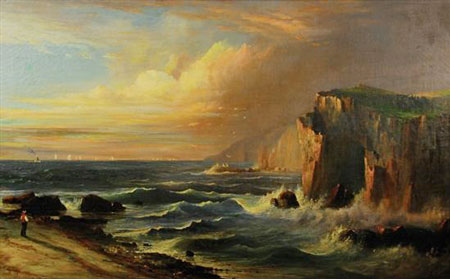 Samuel W. Griggs, Fisherman on the Maine Coast, 1861
A remarkable aspect of the painting is its date, one year after the close of the Civil War. While there are no direct signs of conflict in the painting, it could not help but have been in the minds of both artist and contemporary viewers. The depiction of rough waters viewed from a distance may speak to a postwar mindset. In spite of hazards, youthful figures point to a steamship on the horizon, a sign of commerce, travel, and opportunity.
Oil on canvas, 20 x 40 in., McMullen Museum of Art, Boston College, 1988.332