← newer: Arthur Clifton Goodwin, The Custom House Tower from Long Wharf | older: Samuel W. Griggs, Rocky Coast →
Interactive Spotlight
To explore this piece, hover your mouse or tap your finger on the title or details in the photo.
Mourning Fan, c. 1830–34

Painted paper, mother-of-pearl, silvered guardsticks, 10.6 x 19.9 in., McMullen Museum of Art, Boston College, Hicks Collection, 1988.453
This mourning fan, dating from the early 1830s, comes from the Frederick B. Hicks Collection of over one hundred fans given to Boston College during the 1960s, now housed at the McMullen Museum. Most mourning fans were plain black and made of paper or feathers. Painted scenes like the one seen here were much rarer.
During the Regency (c. 1800–37) and Victorian periods (1837–1901), mourning accessories such as jewelry and fans became very fashionable in Europe and America. Embroidered "mourning pictures" including various symbols of grief and remembrance were also produced widely. Most prevalent of these symbols were the weeping willow, expressing grief but also manifesting strength, stability, hope, and healing, and the urn containing the ashes of the deceased. These symbols often also appeared on carved gravestones.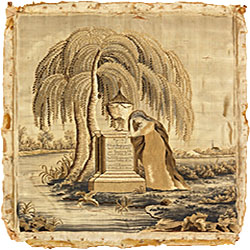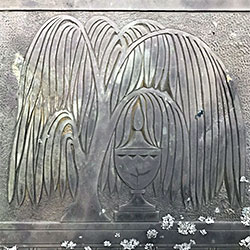 Mourning sampler, England, c. 1810, Cooper-Hewitt Museum, New York
Gravestone, Newton, MA